RJ GAUDET & ASSOCIATES L.L.C.
"Let us realize the arc of the moral universe is long but it bends toward justice."
Dr. Martin Luther King, Jr.
Archive for November, 2015
November 20, 2015 @ 12:46 pm
The Vatican recently called upon Prof. Dr. Detter de Frankopan for advice on the international legal impact of the encyclical, Laudato Si, which discusses the environment. Prof. Dr. Detter de Frankopan and Cardinal Peter Turkson had a private audience with Pope Francis.
Related to Prof. Dr. Detter de Frankopan's legal advice, Pope Francis released Laudato Si, which is available here, on May 24, 2015. The full name of the document is "Encyclical Letter, Laudato Si, of the Holy Father Francis On Care For Our Common Home."
The Encyclical likens earth to a sister and "mother" who "cries out to us because of the harm we have inflicted." It asks people to protect bio-diverse systems in the Amazon, Congo, and elsewhere from "huge global economic interests which, under the guise of protecting them, can undermine the sovereignty of individual nations." The Encyclical warns of transnational corporations with self-interested proposals to internationalize the Amazon as well as popular consumerism and the spread of a "throwaway culture," a term the Pope has used in speeches. The Encyclical was inspired by St. Francis of Assisi who loved flowers and animals and spoke to the Earth, Sun, and Moon as his friends.
Pope Francis advocates for the abandonment of fossil fuels and their replacement with renewable energy. Although he is not a Catholic, Pres. Obama appears to agree with this general direction as he recently declined to establish a Keystone pipeline and, instead, said we should keep our fossil fuels in the ground.
The Pope's Encyclical is not without controversy.   For instance, Catholic miners in Poland are concerned that they may lose their jobs as the result of the legal implementation of the Encyclical.
As a result, Prof. Dr. Detter accompanied Cardinal Peter Turkson to Poznan, Poland to explain to the miners that legal implementation would only occur very gradually. In addition to speaking with Polish miners, Prof. Dr. Detter de Frankopan and Cardinal Turkson attended an environmental conference, Pol-Eco System Conference.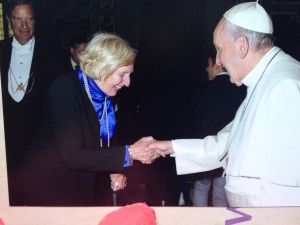 The Pol-Eco System Conference: International Trade Fair of Technologies and Products For Sustainable Development and Municipal Services took place in Poznan, Poland from October 11 – 14, 2015. The conference featured special exhibitions on renewable energy, water management, environmental protection, and other matters. More information about the conference is available at this link.
The Encyclical reflects a belief in the common brotherhood of people and, even, in the unity of all earthly creatures: "Because all creatures are connected, each must be cherished with love and respect, for all of us as living creatures are dependent on one another." This is reminiscent of Dr. Martin Luther King, Jr.'s assertion that we are all interconnected within a single web.
What is the role for lawyers? Prof. Dr. Detter de Frankopan advises the Vatican on international law and explains the legal ramifications of moral beliefs. Another example is New York lawyer Jenik Radon who advises sovereign nations on the risks in contractual agreements with the oil, gas, and mineral industry.   Mr. Gaudet and Mr. Radon currently advise a small landowner in Louisiana regarding negotiations with an oil and gas company that wishes to engage in fracking.
Lawyers have a role to play in writing normative values into legal contracts to ensure that the environment is not wasted or destroyed. They can give voice to weaker and less experienced parties, such as individual landowners or even small sovereign nations, in negotiations with multi-national oil and gas companies.
ABOUT RJ GAUDET & ASSOCIATES LLC: the firm is registered in Seattle with office addresses in El Paso, Berkeley, and The Hague. It consists of lawyers who are licensed in Texas, Washington, New Jersey, and the United Kingdom and who work across the United States with local counsel on litigation, class actions, international human rights, international law, wage and hour matters, environmental issues, and other types of cases. Prof. Dr. Detter de Frankopan is Of Counsel.