RJ GAUDET & ASSOCIATES L.L.C.
"Let us realize the arc of the moral universe is long but it bends toward justice."
Dr. Martin Luther King, Jr.
Archive for the 'International Criminal Court' Category
Years ago, Prof Dr Ingrid Detter challenged then Deputy Prosecutor of the ICC, Fatou Bensouda, that the USA would never join the ICC. The spirited dialogue was part of a panel discussion organized by Robert Gaudet Jr. at an American Bar Association SIL International Human Rights Committee event in Paris. Today, roughly 7 years later, Prof Dr Detter had an opportunityto meet now Chief Prosecutor Bensouda, both pictured below, at the yearly Conference of the Société française de droit international in Lille, France, 20 May 2017.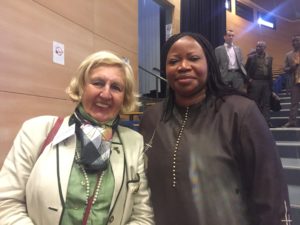 More