RJ GAUDET & ASSOCIATES L.L.C.
"Let us realize the arc of the moral universe is long but it bends toward justice."
Dr. Martin Luther King, Jr.
Archive for the 'Human rights' Category
November 18, 2018 @ 1:08 pm
In honor of the first Thanksgiving in North America in 1598 between Juan de Oñate and the Native Americans in the El Paso region, you are cordially invited to meet Rev. Harcourt Klinefelter, former media director for Dr. Martin Luther King, Jr.
WHEN: Monday, November 19, 2018 from 5 pm to 7 pm
WHERE: Tigua Tribal Courthouse, 9241 Socorro Road, El Paso, TX 79907.
WHAT: Rev. Klinefelter will show segments of a video documentary about his life and work with Dr. King, answer questions, talk about a new book about his life, and give a pre-Thanksgiving blessing to the Tigua community, Stanford alumni, Dutch-Americans, and other participants.
INVITEES: Tigua residents, Stanford alumni, Dutch-Americans in El Paso, community residents and activists, and their families and friends. RSVPs are preferred but not required.
Tigua residents who plan to attend may notify Aundria E. Garcia at aundria.garcia AT ydsp-nsn.gov. Stanford alumni who plan to attend may notify robert AT rjgaudet.com, tel. (915) 308-0025. Dutch-Americans and other community residents and activists who plan to attend may notify karin AT rjgaudet.com.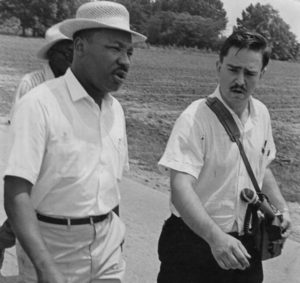 Years ago, Prof Dr Ingrid Detter challenged then Deputy Prosecutor of the ICC, Fatou Bensouda, that the USA would never join the ICC. The spirited dialogue was part of a panel discussion organized by Robert Gaudet Jr. at an American Bar Association SIL International Human Rights Committee event in Paris. Today, roughly 7 years later, Prof Dr Detter had an opportunityto meet now Chief Prosecutor Bensouda, both pictured below, at the yearly Conference of the Société française de droit international in Lille, France, 20 May 2017.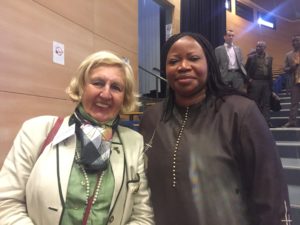 More
Volunteers are welcome to help pack food that will be distributed to homeless teens and others in the Puget Sound area around Seattle.  The volunteer service will take place from 10 am to 12:00 noon on Saturday, June 18, 2016 at a warehouse in Renton, Washington that is marked "Emergency Feeding Program."  Volunteer efforts for this Saturday are being coordinated by Lawyers Helping Hungry Children (LHHC) board member Marla Zink who can be reached at [email protected].  Children, family, and friends are welcome.  Robert J. Gaudet, Jr. of RJ Gaudet & Associates LLC is a proud board member of LHHC.