RJ GAUDET & ASSOCIATES L.L.C.
"Let us realize the arc of the moral universe is long but it bends toward justice."
Dr. Martin Luther King, Jr.
Archive for June, 2015
By Karin Gaudet-Asmus
On May 16, 2015 Stanford alumni from all over the world joined forces to make a difference in their local communities by volunteering for a day. This initiative, called 'Beyond the Farm', takes place every year in May. For May 16, 2015 Robert Gaudet and Karin Gaudet-Asmus helped organize this event in El Paso, Texas. A first for the city!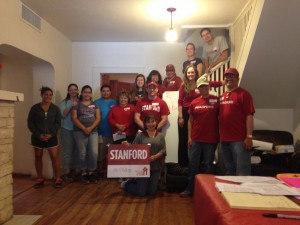 Together with Jose Luis Vilarreal, an officer of the alumni group in the region (El Paso Del Norte Stanford Alumni), we considered various local charities that could use the help of Stanford alumni for a day. As the charity of our choice, we picked Reynold's Home, a shelter for women and children. Reynold's Home celebrates its 25th anniversary this year.
Dr. and Mrs. William J. Reynold's opened up their private home, a two story farmhouse built in 1926, to families in need. After the Reynolds passed away, their children (including current director of the home, Dorothy Truax) recognized what a great resource the home was for providing families in need with a place to stay while they put their lives back in order. Reynold's Home is now publicly known as a shelter in El Paso and the community is welcome to help the shelter with their mission. One of their main projects at the moment is the building of a storage facility, for which they could use the help of a construction company and electrical expertise.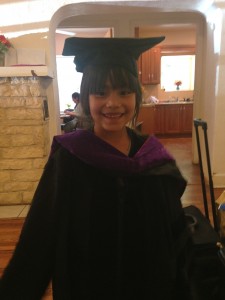 The families in the shelter typically have problems with domestic violence, immigration issues, poverty and other crisis situations. While at the Reynolds Home, individuals are expected to go to school and find employment. They acquire the skills to live productive lives when they leave. Families reside at the shelter for periods ranging from one month to two years. Dorothy personally takes time each week to talk to all of the ladies staying in the shelter to help them overcome obstacles on their way to independent living. The ladies are directed towards school programs, job counselors, life-skills classes, health programs, daycare and other resources in the community. Even when residents leave, Reynold's Home provides them with occasional assistance in the form of food, payment of rent, deposits or utility bills. Reynold's Home provides the women with a family for life!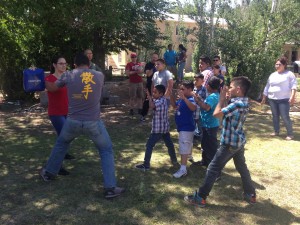 A group of approximately 15 Stanford alumni, friends and family signed up for the El Paso Beyond the Farm initiative at the Reynold's Home. There were multiple events scheduled for each part of the day, and activities included crafts, sports, and educational presentations, as well as a marketing and manual labor effort by the volunteers. Before the activities started in the morning, one girl – after observing the strangers in her house – asked me [Karin] whether we were there to entertain the kids. When the answer was affirmative, the girl shrieked and quickly ran upstairs – probably to inform her siblings and friends of the fun that was to be had.
In the morning, kids interested in crafts joined a competition led by volunteer Sandy V. and other members of Wise Latina International, as well as Stanford alum Andrea, to make the nicest painting of Reynold's Home. The winners received coloring books as prizes. Stanford alum and Emmy award winner, Liz, together with volunteer Amanda, used the kids' drawings to update promotional materials for Reynold's Home. Some of the kids preferred to play sports and joined volunteers Gilbert and Mario for a game of soccer in the morning and football in the afternoon. In the afternoon, kids interested in crafts used q-tips to paint in pointillism style, as instructed by volunteer Glennis, with help from Isabella and others. The women got crafty, too: I gave instructions on how to make a print on canvas with gesso. Volunteers Monica and her daughter Cristina, who had her prom later that day, babysat some of the smallest children while the moms were crafting. Between craft sessions, Robert Gaudet gave a presentation to the women on wage and hour law and on how to expunge criminal records. Sandy C. of Wise Latina International helped translate the legal presentation and craft instructions, and helped out moms with the crafting activities. The handy men and women among us, such as volunteers Bryan and Terri, sanded and painted a greenhouse. The volunteers, staff, children and moms alike enjoyed the barbequed burgers and hot dogs that were prepared by Reynold's Home's own volunteers, Josh and Amanda, while listening to a presentation by Liz of Wise Latina International, a group that's focused on empowering women. But perhaps the biggest hit of the day, for both the moms and the kids, was the Kung Fu lesson provided by Matt, a friend of Stanford alum Bryan and his wife Glennis, who takes Kung Fu classes.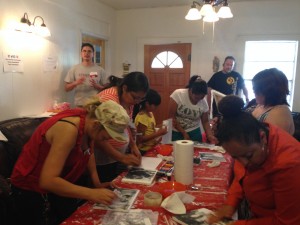 Robert Gaudet was all too familiar with this concept of volunteering for a day from his time at Stanford. While a student at Stanford Law School, he organized a similar day of service called 'Building Community Day' in early 1998. He facilitated students from different faculties to work together and clean up East Palo Alto. A few years later, the 'day of service' initiative seemed to have changed: instead of giving Stanford students an opportunity to give back to their community, it gave the inhabitants of Palo Alto a chance to visit Stanford as an 'open house' organized by the office of the president at Stanford. Now, 'Beyond the Farm' seems to be a new iteration of Building Community Day but with a broader (inter)national scope.  The annual day of service reflects one of Stanford University's founding principles, inspired by the words and beliefs of Jane Stanford, to "render the greatest possible service to mankind."
We hope we made Jane proud. We thank all volunteers (including the ones not mentioned by name here) who made this day possible.
By Robert J. Gaudet, Jr.
From April 24-25, I attended a nationwide conference on workers' rights, organized by NELA (National Employment Lawyers Association). The participants arrived from around the country to share experiences representing employees as the "good guys" in the courtroom.
One speaker, a Texas lawyer, remarked, "no restaurant complies" with the Fair Labor Standards Act (FLSA). Aside from requiring employers to pay at least the minimum wage (which is now $7.25 nationally) and one-and-a-half times the regular rate for overtime beyond 40 hours per week, the FLSA also requires employers to give written notice to their employees about their rights to overtime pay. I asked a few other lawyers at the conference if they agreed that all restaurants violate the FLSA. Surprisingly, all of them did. Apparently, virtually every restaurant violates one or more of the FLSA requirements, especially the requirement to give written notice.
The home care industry was identified as a field that needs more litigation to protect the rights of employees. "There are violations everywhere," a speaker noted, and it is a "growing wild west industry." About 2.5 million people work in home care and 70 percent of them are employed by private, for-profit companies, many of which do not follow the rules. Companies can earn, for instance, $19/hour for care but pay just $8/hour to care givers. Some companies have engaged in Medicaid fraud which can be grounds for a separate whistleblower, or qui tam, action against the same defendant.
One speaker stated that, in 2016, Texas regulations will bring new rights for a minimum wage and overtime for employees who provide elderly care. The speaker also predicted that more workers will be put on fluctuating workweek schedules in 2016.
Speakers shared useful tips. One advised that plaintiff's lawyers should, when they start representing a client with a new grievance, file a FOIA request with the Department of Labor to find out if there were any previous complaints against the same employer. Another speaker said she might discuss settlement with a defendant before filing a complaint but she will ask the defendant to enter into a tolling agreement. That way, her clients are not penalized under the statute of limitations for taking time to negotiate.
The United States Solicitor of Labor, M. Patricia Smith, spoke at the conference. She noted that, after the Obama Administration releases an overtime rule, staff will next prepare Administrative Interpretations. The Bush Administration had revamped the FLSA by issuing Opinion Letters on the day before President Bush left office. The Obama Administration will not issue Opinion Letters but rather prefers Administrative Interpretations, which will be issued in the near future. The Obama Administration has, so far, issued roughly 100 Fact Sheets, which are available at the Department of Labor's website (www.dol.gov).
As did other speakers, Ms. Smith noted a common violation of FLSA is the misclassification of workers as "independent contractors" when they are, in fact, employees. She said this problem is especially prevalent in the construction industry. Ms. Smith related that, in an Arizona Tract case in Arizona and a GSA Systems case in Utah, the Department of Labor obtained consent judgments against companies that had misclassified employees as "owners" of the LLCs when, in fact, they were simply employees.
Janitors and cleaning personnel are often misclassified as "independent contractors" when, in fact, they are employees with legal rights to compensation under the FLSA. Similarly, cable installers and health care works are often misclassified. Ms. Smith noted that the home care industry will see a 40 percent increase in the next years for both the elderly and disabled.
In a separate panel discussion on arbitration, speaker Shannon Liss-Riordan noted that 40 percent of companies are inserting mandatory arbitration provisions into their employment agreements. That is a stark increase from several years ago when it was closer to 16 percent. The result is that employees, now, have less access to courthouses. They are increasingly forced into arbitration to settle legal disputes with employers.
Another speaker noted, "arbitration is faster and cheaper" with some advantages over traditional litigation. The speaker advised that lawyers should "go for it." Among other things, employers are required to pay for the cost of arbitration under the AAA and JAMS rules.
With a wide variety of speakers including a government representative, private practitioners, and a judge, the NELA conference covered the basics of wage and hour law but offered enough sophistication for veterans, like Jac Cotiguala of Chicago who's belonged to NELA for decades, to learn about new legal developments. The conference, called "Protecting Pay: Representing Workers With Wage & Hour Claims," took place in The Sphinx Club in downtown Washington, D.C.
Because I practice in El Paso, I was interested in what participants thought about the risk of deportation for illegal immigrants who stand up for their rights. During her remarks, Ms. Smith said the Department of Labor ("DOL") has a Memorandum of Understanding with Immigration and Customs Enforcement ("ICE"). ICE sends DOL a list of names to DOL before it does a workplace audit. ICE then "stand[s] down," stopping any deportation proceedings against illegal immigrants if there is an DOL investigation into an employer's violations of labor laws against the same people.
I asked a few private lawyers if their clients had ever been deported or if they had ever seen that happen as a result of the clients' participation in private lawsuits. They said no. One lawyer from a large employment firm had not seen that happen. A senior lawyer with decades of experience had, also, not seen illegal immigrants ever deported for participating in a private lawsuit. The consensus seemed to be that illegal immigrants who file lawsuits under the FLSA are not at risk for deportation unless they have been convicted of felonies.
On the day immediately before the conference, some NELA members, including myself, consulted with elected officials and their staff in the U.S. Congress. Another member of NELA and I met with Counsel for Senator John Cornyn (R-TX), in the Hart Senate Office Building, to discuss the Arbitration Fairness Act and the Civil Justice Tax Fairness Act.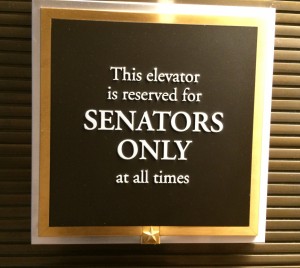 After the conference, the exchange of practical and legal ideas has continued through the vigorous NELA listservs. As it turns 30 years old, NELA has become a valuable resource for lawyers who care about the rights of employees.