RJ GAUDET & ASSOCIATES L.L.C.
"Let us realize the arc of the moral universe is long but it bends toward justice."
Dr. Martin Luther King, Jr.
Condolences to the Family of the Late Louis de Frankopan
December 4, 2018 @ 10:32 pm
"We are very saddened by the news of the passing of Louis de Frankopan, the husband to Prof. Dr. Ingrid Detter de Frankopan," says Robert J. Gaudet, Jr. who is joined other members of RJ Gaudet & Associates LLC in extending their deepest sympathies to Prof. Detter and her family.
A Requiem Memorial Mass in the memory of Mr. Frankopan will be held on December 14, 2018 in the Brompton Oratory, Church of the Immaculate Heart of Mary, on Brompton Road in London, England.
Prof. Detter met Mr. Frankopan when they were students at Oxford University. It was the start of a life-long partnership and love of 50 years with numerous children and grandchildren.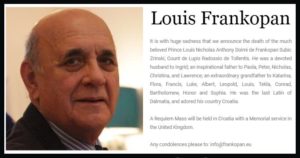 Mr. Frankopan's surviving spouse, Prof. Detter, is an accomplished Barrister and author of books on international law including the recently published "Philosophy of the Law of Nations" published by Montesa Jagellonica in 2018. She served as a legal advisor to His Holiness Pope John Paul II and represented the nation of Dominica in legal proceedings.
More recently, Prof. Detter served as an expert on international law in a federal court in California opining as to whether a terrorist act may constitute an act of war.  Her husband will be greatly missed by his friends and family.